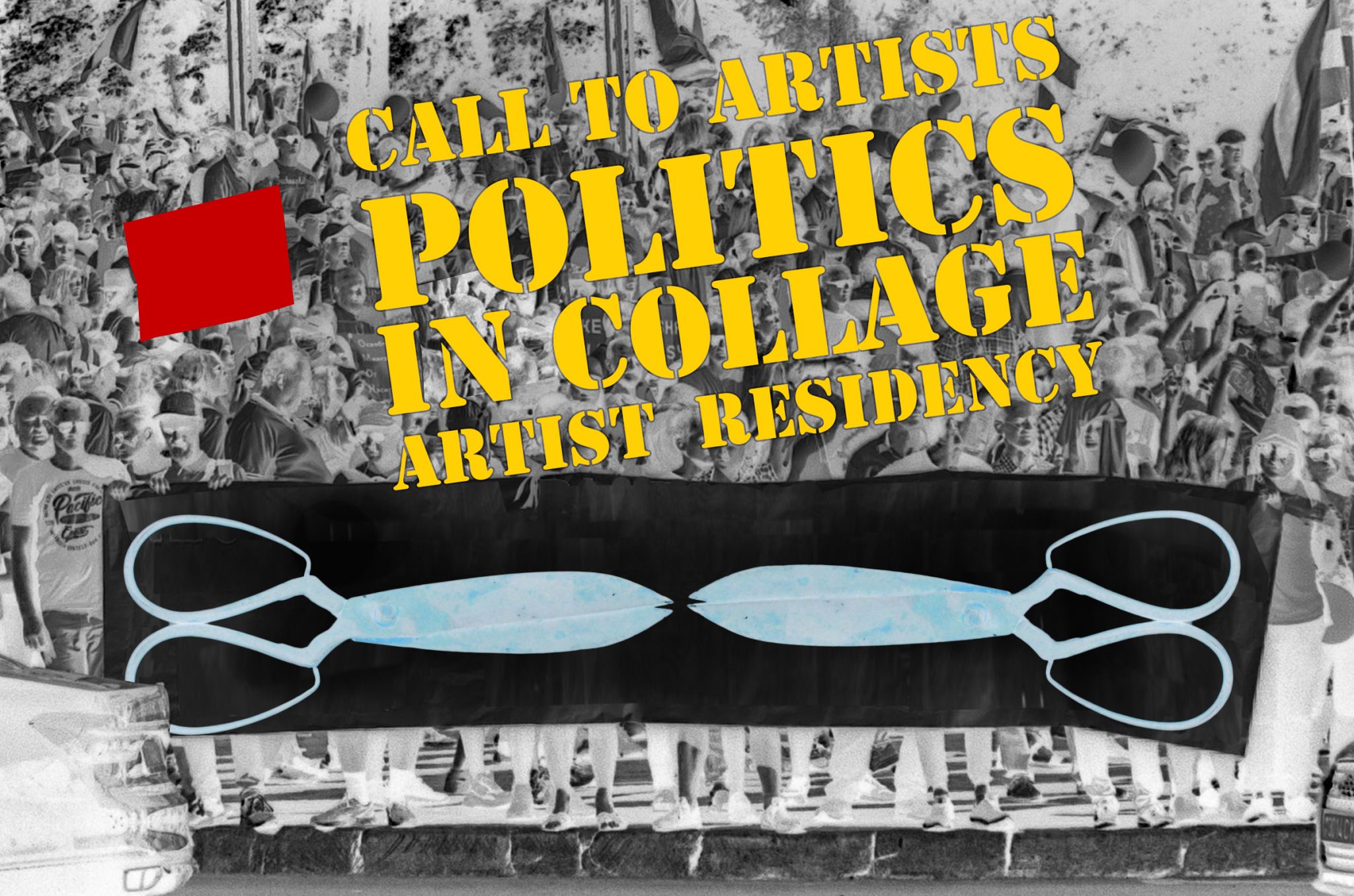 Politics in Collage Residency 2022
A four-week, virtual/online residency with Kolaj Institute in November and December 2022
Deadline to apply: October 16, 2022

During the Politics in Collage residency, we will be discussing the history of political collage and important political collage artists, exploring how to curate and exhibit this crucial art form, and, most importantly, challenging ourselves to push our own artistic practice further in the creation of political collage. During the month-long residency, artists will hear from a variety of guest speakers specializing in different aspects of this form during four virtual meetings on Tuesdays from 4-6PM EST. Through ongoing online discussions and regular collage exercises in between meetings, artists will learn how to articulate complex political subjects in their work and explore how to inspire engagement with difficult socio-political topics through collage.
Artists in the residency will conceptualize and begin work on a piece exploring a political or social subject of their choosing. Although the works may not be completed by the end of the residency, they will be regularly critiqued and discussed by the group throughout. Artists will write an artist statement that documents and provides critical context for their work. The completed work and texts from the residency will result in a book published by Kolaj Institute and an exhibition, whether in-person or online, to be determined at a later date.

IMPORTANT: Read the full Call to Artists HERE.

Learn more about Kolaj Institute on the organization's WEBSITE.
WHO IS THIS FOR?
Collage Artist Residencies are intended for self-motivated artists, at any stage in their career, who want to develop their practice by exploring a topic or working method and collaborating with others to produce a final product. This particular residency will be of interest to those artists working in social and political collage, or those who are interested in doing so. Residencies are open to any artist over the age of 21 from anywhere in the world.
COST
The cost of the residency is $500 USD per artist; however, no artist will be turned away for lack of funds and the organizers will work with artists to build a financial aid package.
WORKSHOP LOGISTICS
Dates: November 14 - December 6, 2022
SESSION DATES
Monday, November 14th, 4-5 EST
Tuesday, November 15th, 4-6PM EST
Tuesday, November 22nd, 4-6PM EST
Tuesday, November 29th, 4-6PM EST
Tuesday, December 6th, 4-6PM EST
The residency will begin with an invitation to join the Slack workspace on Friday, November 11th, followed by a one hour, online Meet & Greet on Monday, November 14th, 4-5 EST. The rest of the sessions will take place on the following Tuesdays, 4-6PM EST.
Artists are expected to attend all scheduled sessions and complete assignments. By participation in the residency, artists grant Kolaj Institute, Kolaj Magazine, and Maison Kasini permission to publish the images online and in book form and in the promotion of the project and book. Any original collages made during the residency remain the property of the individual artists with all rights retained.
APPLICATION PROCESS
The submission process asks applicants for:
• Contact information
• Artist Bio (50-250 words)
• Statement of Artist Practice (50-300 words)
• 5-7 images of artwork
• Statement of expectations
• Asks questions about your work and needs
QUESTIONS
If you have questions, send an email.
Kolaj Magazine's Artist Directory is a tool for organizing and cataloguing artists who work in the medium of collage. Its audience includes the general public as well as independent curators, art venues, and writers.
What Is the Kolaj Magazine Artist Directory?
Kolaj Magazine Artist Directory is a membership-based directory and advertising program. The editorial staff of Kolaj Magazine uses the Artist Directory to select artists to feature in the publication and to select artists for various curatorial projects and the Artist Directory exists as a public resource for those interested in collage as a medium and is designed to put interested parties in direct contact with artists. Members of the Artist Directory are permitted and encouraged to refer to their Listing when responding to Calls to Artists as a way of facilitating their response. The Kolaj Magazine Artist Directory is the primary online gateway of the Kolaj Institute Artist Archive and is used to organize online information about artist members. We offer members an option for an Artist Advertisement in the printed magazine.
Sign-Up Options
OPTION 1: ONLINE ONLY
The cost of a 12-month membership to the online Kolaj Magazine Artist Directory is $20.00.
OPTION 2: ONLINE & PRINT EDITION
The print edition of Kolaj Magazine features a directory of collage artists. (see example here) Listings are paid advertisements that feature an image as well as the name; city, state, & country; and website or email of the artist. The listings appear in a box that is 3.7 inches wide and 3 inches tall. After you select and send the images to be featured, Kolaj staff will prepare the listing and send you a digital proof if requested. The cost is $50 per issue (or four issues for $150) and includes a 12-month membership to the online directory.
Sign-Up Process
The registration process will ask you for:
Artist Bio
Artist Statement
3-5 images & captions
Collage Books is Kolaj Magazine's tool for organizing, documenting, and cataloguing books in which collage plays an important role. Our audience includes readers and collectors of collage books as well as curators, art venues, and writers.
We seek submissions of collage-related titles. We take a broad view of collage books and include trade editions, art criticism, coffee table books, 'zines, artist books, catalogues, literary endeavours that feature collage.
We accept submissions from traditional publishers, small presses, and individual artists and writers.

Inclusion in the directory is at the discretion of the publisher. If you are interested in advertising in the "Collage Books" section of the print magazine, send us an email for details.
Sign-Up Process

The registration process will ask you for:
Title and author information
Publisher information
Book Details
An announcement or press release
3-5 images & captions
Review Copy
If you wish to submit a review copy, you can mail the book to:
CANADA
Kolaj Magazine
c/o Maison Kasini
PO Box 247 Station C
Montreal, Quebec H2L 4K1

UNITED STATES
Kolaj Magazine
c/o Kasini House
PO Box 1025
Burlington, VT 05402
Collage communities are collectives, meet-ups, ongoing collaborative projects, and groups whose focus and mission involves collage as a medium or genre in some way.
The International Directory of Collage Communities is a survey of artist groups who are coming together around collage. The directory exists online as a searchable website. Kolaj Institute publishes a printed directory that features and highlights communities every two years.
By documenting and mapping these communities, Kolaj Institute works to develop a picture of the collage movement: how collage artists are working together, how they are diffusing collage, and what challenges they face mobilizing an art community.
Kolaj Institute invites active collage communities to submit to the directory. The editorial staff of Kolaj Magazine uses the Directory to select communities to feature in the publication and for various curatorial projects.
The primary purpose of database is be a resource to people seeking information about Vermont contemporary art. Its audience includes the general public as well as independent curators, art venues, and writers.
Art presenters use the Artist Database to select artwork for their venues. Artists may also use the database to market, promote, and sell their work.
Kasini House uses the database to select artists for various projects such as artist portfolios in the Vermont Art Guide. Kasini House also uses the database to select artists for Kasini House Art Cards.
Kasini House promotes the Artist Database as a resource to independent curators and writers looking for artists for various projects, particularly those people interested in writing about and curating exhibitions of Vermont contemporary art.
The cost of a 12-month membership to the online Vermont Art Guide Artist Database is $20.00.
SIGN-UP PROCESS
The registration process will ask you for:
Artist Bio
Artist Statement
3-5 images & captions
Kasini House routinely promotes exhibitions in Kolaj Magazine and on its website. The purpose of this tool is to facilitate the submission of exhibition announcements.
Please note, this is optional. You are welcome to submit exhibition announcements and press releases via email.
Email Kolaj Magazine
In order to promote your exhibition, we will need at least one image of artwork in the exhibition and a caption of the artwork. Do not send posters, images of the exhibition postcard, or images with watermarks.
Materials will be reviewed by magazine staff. Please note, submission does not guarantee that we will promote or review an exhibition. You will be contacted for further information, if necessary.