Kolaj Fest New Orleans 2019-Call for Papers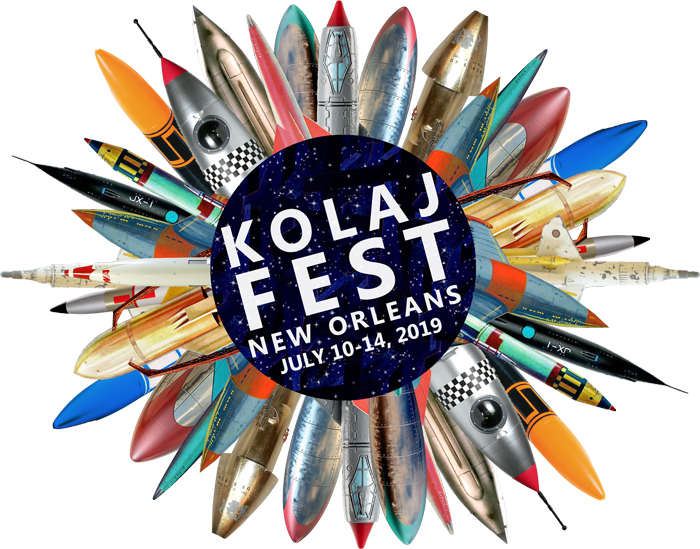 Kolaj Magazine is an internationally-oriented art magazine dedicated to contemporary collage. WEBSITE
Kolaj Fest New Orleans is a multi-day festival and symposium July 10-14, 2019. Our mission is to create a platform that allows us to explore critical issues around collage (how it is curated and presented, its role in contemporary art, and the tensions between collage as a medium, a genre, and a phenomenon).
Our goal is to create an event that attracts a variety of people working in various capacities, such as art professionals at museums, galleries, and centers as well as academics, writers, and artists. The general public will be invited to join us for gallery visits, evening presentations, and collage making.
This Call for Papers is how academics, writers, curators, and art professionals tell us that they would like to take on a presenting role at Kolaj Fest New Orleans. (If you are an artist interested in presenting at Kolaj Fest New Orleans, please see the Call for Artists and Projects.)
The program at Kolaj Fest will be a unique experience. Our aim is to breakdown hierarchy and foster dialogue among art professionals working in a variety of capacities. To that end, the editorial staff of the magazine will work with presenters to craft a program. We invite people to present on their curatorial work, be it exhibitions they have curated in the last two years or projects they are developing currently. Most presenters present slideshows on a panel with others about their work followed by a Q&A with the audience.
In seeking academics to participate, we are particularly interested in: historical perspectives, art world economics, the role collage has played in an artist's practice (particularly when their final work isn't collage per se); mash up culture; the relationship between contemporary art and society; museum issues; surveys of how collage was presented in exhibition; collections where collage plays a central role; the role of collage in various art movements (Modernism, Surrealism, Pop Art, etc.); utopian and dystopian imagery in art; art's role in the current political moment and, in particular, how art responds to sexism and racism; notions of power in the art world and its impact on collage. This is by no means an exhaustive list.
To get an idea of the sorts of projects we seek, we strongly encourage you to review the 2018 program prior to submitting.
IMPORTANT CONSIDERATION: One should only apply to be a presenter if they are planning on attending Kolaj Fest New Orleans in person. Presenters are responsible for their own travel to, accommodations at, and registration for the event. Limited resources are available to assist those presenters in need and only after their presentation submission has been accepted.
Sign-Up Process
The registration process will ask you for:
Topic of Research or Presentation Title
Abstract
Bio
& the option to submit support materials (pdf, images, etc).
The deadline to submit is March 18th, 2019. Submissions will be reviewed on an ongoing basis. Kasini House will notify Submitters via email no later than April 15th, 2019.
About Kolaj Fest New Orleans
Kolaj Fest New Orleans is produced by Kolaj, an internationally-oriented, printed magazine about contemporary collage. Kolaj Fest New Orleans would not be possible without the support of Press Street, Antenna Gallery, Kolaj Magazine and Kasini House. Kolaj Fest New Orleans is made possible through a generous gift from Laurie and Doug Kanyer. WEBSITE