Collage as Street Art Residency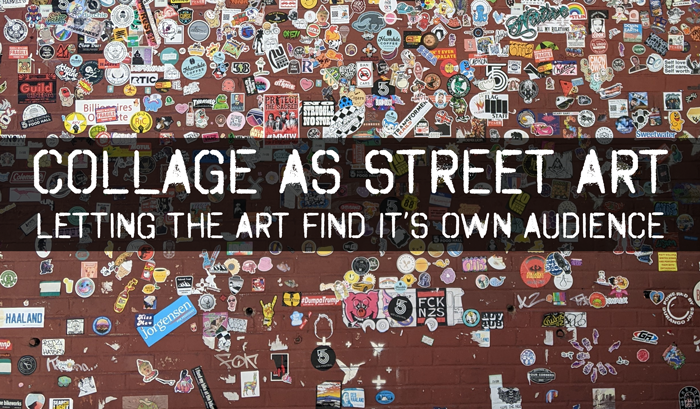 Collage as Street Art Residency

Deadline to apply: 20 June, 2021

In this 4-week, project-driven collage residency, artists will delve into the history, methods and major artists of the "street art" movement with a particular emphasis on collage. Participants will endeavor to put some of those methods into practice, taking their collage art out into the streets. Documenting the entire process will be integral to the project, as the resulting work will be published in a Kolaj Street Krewe book to be announced at a later date.

IMPORTANT: Read the full Call to Artists, including a complete description and information about fees HERE.

Learn more about Kolaj Institute on the organization's WEBSITE.
WHO IS THIS FOR?
Collage Artist Residencies are intended for self-motivated artists, at any stage in their career, who want to develop their practice by exploring a topic or working method and collaborating with others to produce a final product. Residencies are open to any artist over the age of 21 from anywhere in the world.
WORKSHOP LOGISTICS
Dates: July 1 – July 31, 2021

Over the course of four weeks, artists will participate in online meetings and complete independent assignments. Sessions are one hour to an hour-and-a-half long and include slideshows, artist presentations, and discussions. Artists are expected to attend all scheduled sessions and complete assignments. Artists will be tasked with creating and documenting their own street art. By participating in the residency, artists grant Kolaj Institute, Kolaj Magazine, and Maison Kasini permission to publish the images in book form and in the promotion of the project and book. Any original collages made during the residency remain the property of the individual artists with all rights retained.
APPLICATION PROCESS
The submission process asks applicants for:
• Contact information
• Artist Bio (50-250 words)
• Statement of Artist Practice (50-300 words)
• 5-7 images of artwork
• Statement of expectations
• Asks questions about your work and needs
QUESTIONS
If you have questions, send an email.